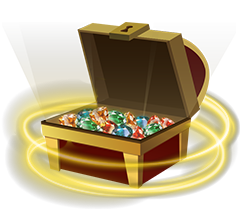 GAME RULES:
All T9play Members are entitled to participate in this event and collect T9-coin to claims treasure box bonus
You are required to make deposit and play in any Slots and Live casino products that available at T9play.com.
There's no minimum bet amount required in this event.
T9play.com REVERSE THE RIGHTS TO MODIFY THE EVENT TERMS OR CANCEL THIS EVENT AT ANY TIME, EITHER AIMING AT ALL PLAYERS OR INDIVIDUAL PLAYERS.
ALL T9play GENERAL TERMS & CONDITIONS APPLY.
HOW TO EARN T9coin :
T9PLAY member can gain T9coin by deposit.
Chart below is showing amount of total deposit and total of T9coin that can member get.
| TOTAL DEPOSIT (ACCUMULATE) | TOTAL T9coin YOU GET |
| --- | --- |
| RM 100 | 1 T9COIN |
| RM 200 | 3 T9COIN |
| RM 300 | 4 T9COIN |
| RM 500 | 6 T9COIN |
Each Member can ONLY get maximum of 9(nine) T9coin PER-DAY.
HOW TO USE T9coin :
T9coin is only can be use in T9PLAY.com ONLY.
T9coin can be use in '3 CHOOSE 1 treasure box'
1(one) T9coin only can use to open 1(one) treasure box ONLY
Among 3 treasure box, There is a chance to win BIG PRIZE up RM3888
NOTE:
T9PLAY reserves the right to MODIFY, CANCEL, SUSPEND or TERMINATE the promotion and/or CHANGE THE TERMS of the said promotion at any time WITHOUT prior notice
All T9PLAY General Terms & Conditions apply